Timing Belt Replacement Perth – Best Price in Perth – Same Day Service, I'll Come to You!
Express Timing Belts have express Mobile Mechanics in Perth, to give you the best service possible! We're very fast, and you'll get same day service! You'll get a fast and reliable fitting service for timing belts, water pumps, oil seals and drive belts.
Placing your car engine in the best possible condition is your choice. If you're at home or work, we'll come to you!
Your car has a timing belt (also known as a cam belt), and is very important to keep it in good condition, so it doesn't wreck your car when it breaks. It is a part of combustion engine that is used to synchronize the rotation of camshaft and crankshaft. The purpose is to open and close the valves of the engine during the strokes. Therefore, the condition of the belt should be of first class, because it's cheaper to replace it before it breaks as it can cause massive damage to your car engine if it breaks while you're driving.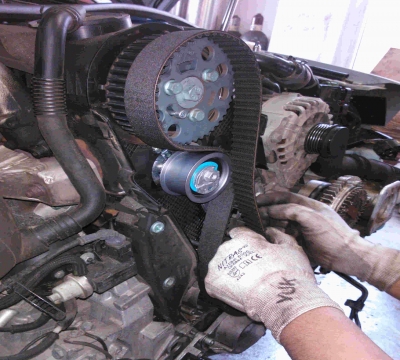 Timing belt replacement on a car engine
Is it logical to replace the timing belt?
It's best if everything runs on time. The same thing applies on the timing belts too. If these belts are not in a good condition, you may miss many things. A failing belt needs to be replaced and when the need arises, your Car Manufacturer will surely recommend you to get it replaced by a qualified mechanic.
Express Timing Belts is a very good qualified Mechanic! We also have mobile fitting service vehicles to come to you, so you'll save a lot of time. You'll also save a lot of money, because we don't need to pay a lot of workshop rent. All the cost savings goes into making our prices very reasonable for you – book a job with us now!
There are many things that are considered by your Car Manufacturer before recommending a replacement:

Check your car engine if it's showing any signs of some catastrophic failure. If you don't know, just take a photo and send it to us - we'll check it free of cost for you;

The teeth of the belt are stripped when the timing belt is degrading;

The fiber cores of the timing belt are unraveled and delaminated;

The breakage of the belt is something really unusual and is considered an extreme condition of a faulty belt.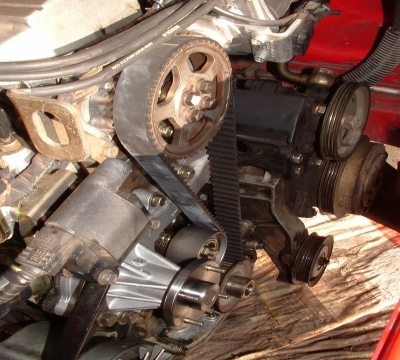 Timing Belt Condition on Car Engine
Notice the condition of your timing belt in a timely manner
One must hire a good qualified mobile mechanic to get your car serviced. Considering the fact that a timing belt is one such part of the car which is hard to reach, its condition can be checked properly by a qualified mobile mechanic.
Timing belts provides clean operational condition to your car, so make sure to keep it in good condition and get it serviced on a recurring basis.
Benefits of Maintaining the Timing Belt in Good Condition:
Please note: For big jobs, you'll have to bring your car to our workshop, because we have specialised tools to help fix your car. We'll let you know if this is even needed, as most of the work, we can do with our mobile vehicles. Our workshop is located in the Morley area, just down the road from Morley Galleria, in Perth Western Australia. Express Timing Belts will come to you.